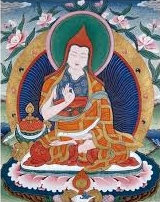 The great Indian Pandita, Shantideva, was living at Nalanda University in the 8th century. Challenged to give a lecture, he spontaneously composed this text, the Bodhisattvacaryāvatāra.
Rinpoche has on many occasions based his teachings on a specific chapter or excerpts from it. In 1986, Rinpoche taught the entire text at Kagyu Thubten Choling, Wappinger's Falls based on the outline from the famous commentary by Khenpo Kunpal.
For now, you find teachings from Kamalashila, 1982, Vajradhara Ling, August 1982, Kagyu Thubten Choling, 1986, Athens, 1990 and Kagyu Shenpen Kunchab, Santa Fe, NM, July 1997.
Tibetan only, Tibetan - English, Tibetan - Greek
2, 50, 14, 19 & 4 talks, audio
Excellent for students new to dharma.