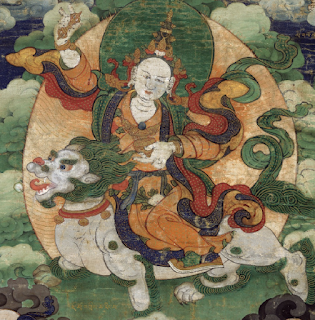 This song by Milarepa was taught to the goddess Tseringma and is found in the instructions to her, which are called "Advice that are like a String of Pearls." Rinpoche has taught this song on numerous occasions emphasizing its great importance of its profound instructions.
In Bouddha, in 1989 and in 1990, it was taught extensively and since these teachings prelude the song-version, there are extensive word-by-word explanations as well.   
You can also find recordings from Athens, August 1990; Halifax Shambhala Center 1991; Kagyu Shenpen Kunchab, Santa Fe 1991;Rocky Mountain Shambhala Center 1991; Seattle Dharmadhatu Center 1991; Delhi 1992; Berkeley Dharmadhatu, April 1992; Karmê Chöling, 1992; Kagyu Thubten Choling, 1992; Karma Cho Phel Ling Denmark 1992; Kamalashila 1992; Taipei, 1993; Karma Thegsum Choling, June 1993; Marburg 1993; Karma Yoenten Ling, Huy, June 1994; Dakshang Kagyu Ling, 1994; Tucson 1995; Thegsum Tashi Choling, Hamburg, September 1997; Kagyu Samye Ling, 2000; Birmingham 2000; Kagyu Dzamling Kunchab, July 2001; Athens 2001; Hamburg 2003; and Florida 2005. The Kagyu Samye Ling recordings are kindly provided by that dharma center.
Tibetan only, Tibetan - English, Tibetan - German, Tibetan - English - Chinese Mandarin (中文)
To enroll in the course, the samaya key is KTGR